The DROPS Asia Web Forum has been retired as most contributors preferred to share their knowledge via email, one-one meetings or via our LinkedIn page. Below is an extract of the most read articles. 
April 22, 2021, 00:52
Suggestion Box
March 5, 2021, 01:41
DROPS Asia Webinar on Inspections, Surveys and Audits 11 August 2020
Prepared by Kamsin Sajnani, Akshay S. Manjramkar, Sourabh Hulawale and Omkar Khodke of the MIT World Peace University
Due to the dynamic nature of operations carried out in O&G Industry, the Dropped Objects incidents are increasing with time. Thus, to design the Prevention Strategy for dropped objects, the role of Internal Inspections and Third Party Inspections has gotten significant. Various Operators, Drilling Contractors, Service and Inspection companies are zeroing in on the most proficient method to oversee such internal and third party inspections effectively.
The webinar talked about how different operators, drilling contractors, service and inspection companies do their internal inspection and third party inspections, the frequency of conducting such inspections, deliverables of their inspections and the required competencies for the inspector. These were addressed with the help of different industry professionals.
The first speaker was Mrs. Afizza Anis Abdul Rahman, who was the newly appointed Head of Wells HSE from Petronas, and she shared her perspective of Petronas on DROPS inspections.
The subsequent speaker was Mr. Allen Smith, trainer and facilitator with DROPS global. He focused on the importance of reliable securing or secondary retention, available tools and publications on DROPS forum about different secondary retention techniques. His special emphasis was on what are Split pins/ cotter pins, their design and installation procedure. He likewise examined about the learnings from IOGP/ CAA workgroup on helideck inspections.
The third speaker was Mr. Sagar Raut, HSE Manager from Seadrill. He talked about Seadrill's approach for internal and third party DROPS inspection, about DROPS strategy, DROPS survey, training and competence.
The last speaker was Mr. Cameron Stevens who shared how technology can assist in improving DROPS inspections using an Augmented Reality Head device. With the help of this gadget, one can snap a picture of any equipment or tool and check whether its plan and establishment is as per the best suggested rehearses from DROPS or not. Likewise, one can store the information during examination in the gadget and can refresh as well. With the assistance of this gadget, one can take the assistance of topic specialists through calling him/her while conducting an inspection.
Following the presentations, there was a Q&A session, for which a large virtual whiteboard was used. This worksheet also included the contact details and presentations from various industry professionals. A special thanks to the team at RP Squared for volunteering to facilitate this.
This webinar gave an insight about how various companies plan the preventive strategies on the Dropped Objects, assessments with their own wellbeing approaches alongside DROPS suggested best practices.
We had some technical difficulties with the Teams live event meeting and some of the scheduled presenters could not log in. We thank Simon Walker from Transocean, Phil Rusden from Borr Drilling and William Lai from Baker Hughes for preparing.
165 participants from a mix of drilling contractors, operators, service majors, inspection companies as well as non-oil and gas joined this webinar, a record for the DROPS Asia chapter.
The following speakers have agreed to record their presentation after the webinar and we have posted these videos on our YouTube Channel here
Keynote – Mrs. Afizza Anis Abdul Rahman, Head of HSE Wells at Petronas Carigali
Overview of DROPS publications related to inspections, Kamsin Sajnani, Akshay S. Manjramkar, Sourabh Hulawale and Omkar Khodke of the MIT World Peace University
DROPS Global Update – Allen Smith, Facilitator & Trainer at DROPS Global
Drilling Contractor Perspective – Sagar Raut, HSSEQ Manager Asia Pac & Middle East, Seadrill
Service Provider Perspective – William Lai, QHSE Leader Asia Pacific, Baker Hughes
Head Mounted Tablet for hands free inspections – Cameron Stevens, Solutions Engineer at RealWear Inc.
Various Q&A – Allen Smith & Joachim van der Meulen, DROPS Global & DROP Asia.
This webinar was sponsored by Dropsafe. Please check the interview with Mike Rice on their latest helideck perimeter netting product.
 May 22, 2020, 06:04
 DROPS Asia Webinar 31 March 
A presentation of the DROPS Asia Objectives for 2020
A presentation by Shell on Recharging the reduction of high potential dropped objects
An update of the development of DROPS VR
April 24, 2021, 08:47
Increasing the capacity of Tables / Decreasing the capacity of each Table
Hello Everyone,
I have a suggestion for increasing the capacity of people in each room.
We can add more tables to each room by decreasing the number of people on each table. With the increased number of tables, the tables will be closely packed. Hence in order to make the accessibility of the tables easier we can assign a code to the tables and from Reception, we can give the attendees their choice of table.
Thank You,
Jayesh Bellani,
IADC PDEU SC
 March 17, 2021, 04:57
 DROPS Asia Webinar – 28 January 2021 -Recording & Minutes
Bow-tie Expert David Jamieson and Chapter Secretary Joachim van der Meulen facilitated an active audience and a panel of industry experts including Rizal Nasiran (Petronas), Sagar Raut (Seadrill), Gary Dunn (Stopdrop Tooling), Wayne Bauer (Vantage Drilling) and Allen Smith(DROPS Global) to explore the most common causes of dropping tools as well as preventive and mitigating barriers.
By attending the workshop, participants gained
A better understanding of the bow-tie methodology
Understand the most frequent causes of dropped tools from height
The most common and effective barriers to prevent such incidents (or the impact thereof)
The opportunity to connect and build relations with industry peers.
After the webinar, participants in first our experimental networking reception. To try it for yourself, view the instruction video here.
The webinar was sponsored by the DROPS Asia Steering Committee & Stopdrop Tooling.
For questions about this and future webinars, please contact the DROPS Asia Chapter secretary Joachim van der Meulen at @drops.asia">secretary@drops.asia
May 23, 2020, 01:45
The DROPS Asia Chapter 
The DROPS Asia Chapter was established in 2009 and aims to facilitate collaboration and support throughout the oil and gas industry to implement DROPS best practices in order to continuously improve elimination of dropped objects and prevent harm to the workforce.
The chapter consists of a steering committee which includes Shell, Petronas, BP, Enquest, Transocean, Seadrill, Borr Drilling and Baker Hughes
The Chapter regularly organizes online webinars which are usually recorded and posted on the Youtube Channel 
To stay up to date on events and and webinars, register for the mailing list here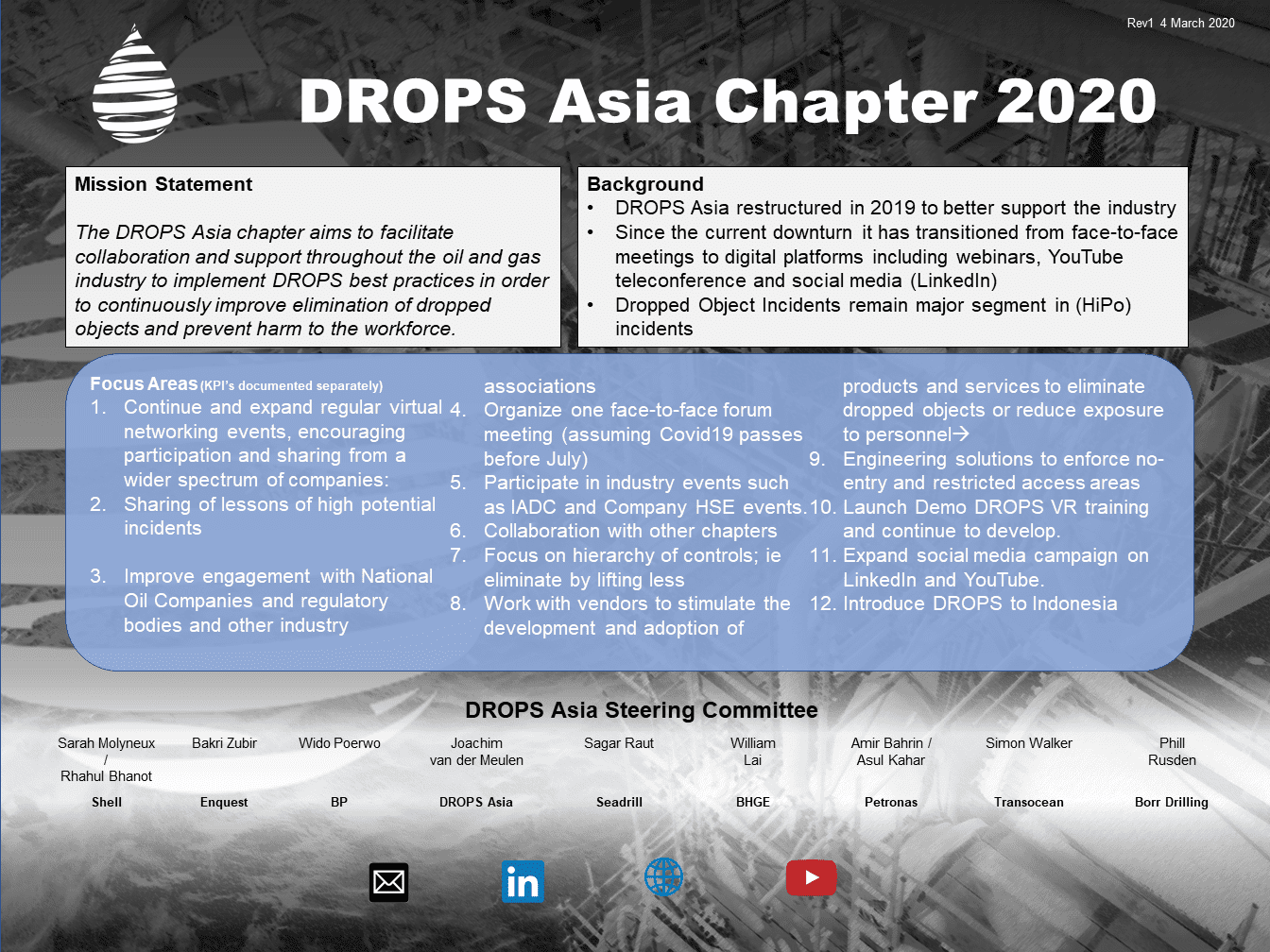 June 29, 2020, 06:32
Oculus Go to be Retired
In a recent post, Facebook announced the retirement of the Oculus Go headset.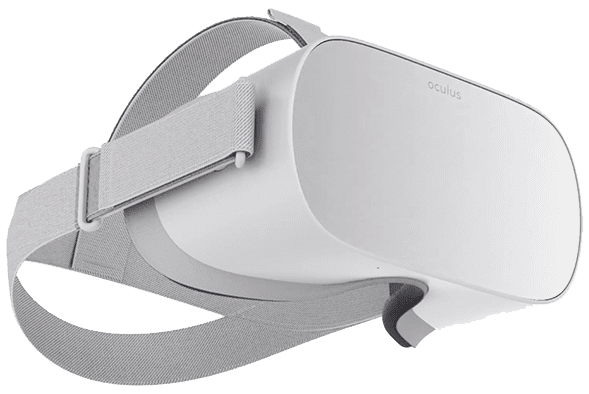 When starting the development DROPS VR, we picked the Oculus Go as our primary hardware to develop the content around and then make it cross platform compatible later. At a price point of 200 USD, the device which required no external PC to power it and yet delivered great quality. We felt it was an easily accessible and affordable solution. The rationale was the even people not really interested in VR, would be happy to spend that kind of amount so they can experience the DROPS VR app.
Facebook is doubling down its investment in the big brother of the Go called the Oculus Quest. "with full head and hand movement powered by our Insight tracking system. Quest enabled incredible VR games like Beat Saber, Dance Central, and The Climb with the freedom of an untethered experience, plus access to high-powered PC games like Asgard's Wrath and Stormland through Oculus Link. Just past the one-year anniversary of Quest, we're humbled by its continued success. The community response has been overwhelmingly positive, and you've told us loud and clear that 6DOF feels like the future of VR. That's why we're going all-in, and we won't be shipping any more 3DOF VR products. We'll end sales of Oculus Go headsets this year as we double down on improving our offerings for Quest and Rift. Today we're also excited to share a sneak peek at a new way for developers to distribute Quest apps starting next year, so that even more of you can join the next chapter along with us." 
While we totally agree that the Oculus Quest is a far superior experience, it is also less accessible.  At a price point of 400 USD, it is double the commitment of the Oculus Go and it currently is also a bit more difficult to setup. The added functionalities of the Quest and in particular the 6DOF vs 3DOF are really nice, but often not necessary for B2B training applications like DROPSVR.
To maintain the principle of easy access for DROPS VR, we will be exploring various alternatives to the Oculus Go, including running an application on your mobile phone. The processing power of high end mobile phones like the Iphone 11 or Note 10 greatly exceeds that of an Oculus Go and in combination with a VR viewer costing roughly 50 USD, we can create a similar experience.
 May 22, 2020, 02:36
Stopdrop Tooling
is the second sponsor for DROPS VR and supports the project with funding as well as technical expertise around working with tools at height
Stopdrop Tooling provides hand tools which have been designed to prevent dropping when "Working At Height". These tools are commonly called tools at height, tools aloft or tethered tools. The tooling is designed and modified to enable user freedom and maintain product functionality but continue to safely control the tool.
Dropped objects are one of the major sources of incidents in heavy industries and construction. In the drilling industry it is estimated that one in ten dropped object incidents are caused by falling hand tools. Stopdrop Tooling works closely with its global customer base including drilling contractors, rope access specialists and scaffolding companies to get the tooling and modifications industry specific. By properly securing the hand tools to a fixed point or person with a lanyard and using locking techniques for individual tool parts, dropped objects incidents can be prevented. Stopdrop is a member of the drops workplace organisation which is dedicated to reducing dropped object incidents on and offshore, all Stopdrop Tooling manufactured tools are DROPS compliant.
Visit Stopdrop Tooling at http://www.stopdroptooling.com/
Dropsafe Champions New DROPS VR Virtual Reality Training Platform
Dropsafe backs the pioneering platform created by DrillingVR and DROPS to deliver free online space for collaboration, meetings and learning about Drops prevention
Singapore, 13 July – Global leader in Drops prevention, Dropsafe, has thrown its weight behind a new virtual reality platform called DROPS VR, from Singapore-based software firm DrillingVR and global O&G industry safety group DROPS. The unique platform is designed to drive awareness and education around Dropped Objects (Drops) prevention in industries such as Oil and Gas (O&G).
DROPS VR is a collaborative online programme that encompasses training apps, exhibition areas and virtual conference spaces – all in virtual reality. Firms will be able to access new online Drops prevention training tools for free via the system, aiding dissemination of HSE best practice on a global scale.
The virtual reality space supports continuing efforts by industries such as O&G, power generation, marine and mining to drive down fatalities and injuries from Drops. This challenge has been underlined by the Covid-19 pandemic, which has impacted operational practices, while placing greater emphasis on online collaboration, and shifting critical training functions to a digital setting.
The DROPS VR software enables personnel in all roles to train more effectively to identify and neutralise Drops hazards on offshore assets. Best practice Drops prevention technology, such as high quality, corrosion resistant steel mesh nets, can be deployed within the software. Practical application of Drops prevention products in a versatile virtual environment prepares personnel for the real world – where mistakes cost lives.
Dropsafe recognised the potential of the project early on, sponsoring the further development of the software platform. As well as providing Drops prevention expertise and digital models of its best-practice prevention systems, Dropsafe has a virtual booth in the online exhibition space.
Joachim van der Meulen, Secretary, DROPS Asia, said: "We believe that Drops incidents can be eliminated through a combination of high-quality engineered solutions, robust and comprehensive regulations, and well-trained, competent workforce. Dropsafe's expertise has been invaluable during the process of creating the DROPS VR and we invite businesses and professionals from across the HSE sphere to share their expertise and engage with the platform as we develop it further."
Mike Rice, Commercial Director, Dropsafe, added: "Although Drops prevention has come a long way in recent years, the O&G industry must continue to push forward by adopting the latest technologies in the fight against Drops. We are hugely excited by what Joachim and his team have already achieved, and with further support it is clear that this platform will help to start a new chapter Drops prevention."
Uploaded files:
May 22, 2020, 02:08
About sponsorship
DROPS VR will be a free training and collaboration tool made possible through sponsorship and volunteers.
Current sponsors include
Stopdrop Tooling – Specialist in Tools for Working at Height
DropSafe – Provider of Secondary Securing netting and safety barriers
DrillingVR – Specialist in Virtual Reality Training and Collaboration Tools
If your company provides products or services that assist with the prevention of, or harm from dropped objects and are interested in promoting your products through the DROPS VR application, please do contact us
May 22, 2020, 04:09
BBC Program around VR
Check the below link for an interesting program about how VR is used to visit Church services in VR during the Covid 19 crisis.
https://www.bbc.co.uk/programmes/w3ct0pcg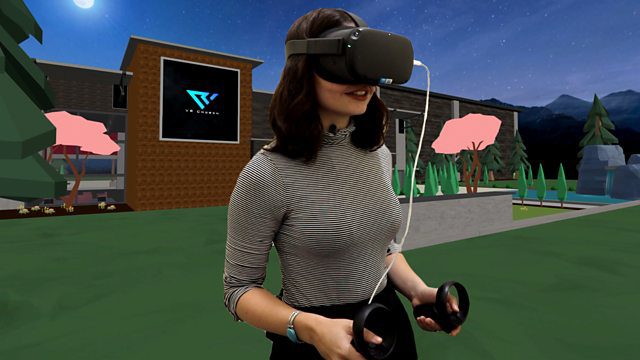 September 23, 2020, 07:10
Oculus Quest 2

Facebook Inc have recently launched the Oculus Quest 2, just 16 months after launching the first version of their stand-alone gaming headset.
The new headset comes with a much faster processor, sharper screen and is 10% lighter.
The 64 GB option sells for US$ 299 and the 256GB for US$ 399.
Readers are cautioned that the Quest 2 requires users to login with a Facebook account. A business version which does not require a Facebook account or has any distracting games on it is available but at more than double the costs.
The DROPS VR demo looks great on the Quest 1 and will look even better on the Quest 2. For the moment, you will need a fairly complicated process to load the app using a process called sideloading  It is expected an improved and simplified loading process will be available from early 2021.
If you are interest to buy the Quest 2, please use one of the links below. (a small commission will be shared with DROPS Asia and this will contribute to the further development of DROPSVR)
What is DROPS?
Within the oil and gas industry, everyone knows the potential cost of a dropped object. It's not just about equipment damage and lost production. It's about life!
The problem is common to everyone in the industry, across all regions, sectors and disciplines. 
DROPS is an industry-wide initiative focused on preventing dropped objects, with the ultimate goal of delivering a second nature dropped objects prevention strategy across our industry.
DROPS is essentially a Global Work Group, represented by 200 operators, contractors, service companies and industry bodies, all sharing commitment and enthusiasm for the common goal of dropped object prevention.
To learn more about DROPS visit https://www.dropsonline.org/