You need to log in to create posts and topics.
Oculus Quest 2
Dropsvr
Dropsvr Scenario
Example Usergroup
Stopdroptooling
#1
· September 23, 2020, 07:10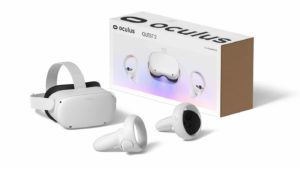 Facebook Inc have recently launched the Oculus Quest 2, just 16 months after launching the first version of their stand-alone gaming headset.
The new headset comes with a much faster processor, sharper screen and is 10% lighter.
The 64 GB option sells for US$ 299 and the 256GB for US$ 399.
Readers are cautioned that the Quest 2 requires users to login with a Facebook account. A business version which does not require a Facebook account or has any distracting games on it is available but at more than double the costs.
The DROPS VR demo looks great on the Quest 1 and will look even better on the Quest 2. For the moment, you will need a fairly complicated process to load the app using a process called sideloading  It is expected an improved and simplified loading process will be available from early 2021.
If you are interest to buy the Quest 2, please use one of the links below. (a small commission will be shared with DROPS Asia and this will contribute to the further development of DROPSVR)
Click for thumbs down.
0
Click for thumbs up.
0
Last edited on September 23, 2020, 07:22 by Joachim